Community & Schools Work
In 2009 Mary worked with Chris Coe on
Songs from the Fen Edge
in conjunction with
East Anglian Traditional Music Trust
and the Cambridge Music Festival to produce a series of workshops for children in local schools based on local folksongs.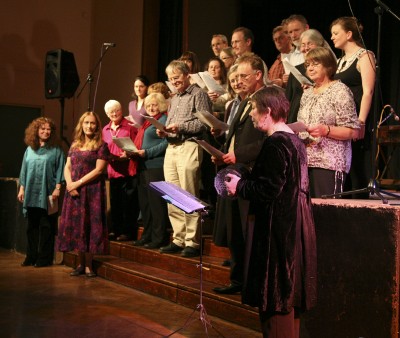 Mary and Chris with the adult group singing at the Cottenham Village College concert 2009.
In 2010 Mary & Anahata ran a Fenland Tunes Workshop at Gleanings Rural Studies Centre
In 2012 Mary gave a series of lessons at Chesterton Community College in Cambridge teaching traditional Cambridgeshire song and dance to pupils in Year 8. A demonstration including a dance devised by the pupils was given at the Folk Museum in Cambridge.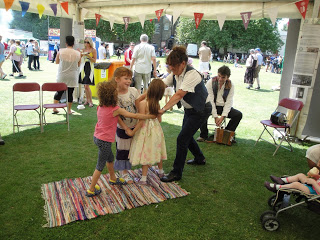 In 2013 at the Big Weekend celebrations in Cambridge, Mary & Anahata taught children's games in the EFDSS Full English marquee and played for Maypole dancing.
In August 2013 Mary & Anahata ran workshops on local tunes at Folk East at their new venue at Glemham Hall.
From Autumn 2013 to Summer 2014 Mary was one of three heritage professionals working in five Cambridgeshire primary schools with the Enid Porter Folk Project. led by the Museum of Cambridge (a.k.a.The Folk Museum). She is taught local songs, traditional customs and children's games in five schools throughout Cambridgeshire. The children learnt songs, traditional customs and games specific to their villages from times past. Here is a video of a song that was sung at Harvest Suppers in South Cambridgeshire . The pupils at William Westley CE Primary School learnt some old playground games which were unique to their village - notably Pig in a Gutter. Here they are playing and talking about their local games.
From September 2013 to July 2014 Mary was working with the Full English project at Bewick Bridge Community Primary School in Cambridge along with Paul Scourfield and Debs Newbold to encourage use of folk traditions in the curriculum. Mary was responsible for teaching songs, traditional customs, dances and games to Kestrel Class (Year 5 pupils) culminating in a performance at Birmingham Town Hall.
In 2014 and 2015 Mary worked in several Suffolk schools, providing workshops on traditional song, games and music for pupils.
In 2016 Mary taught Maypole Dancing to a group of children at Longstanton Primary School.