Mary Humphreys - Book
Folk Songs Collected in Cambridgeshire
Mary has recently published ( courtesy of
Hedingham Fair.
) a book of songs collected in Cambridgeshire from manuscripts held in the British Library, the Vaughan Williams Memorial Library and Clare College Library, Cambridge. These songs were collected by Ella Bull of Cottenham, Ralph Vaughan Williams and Cecil Sharp. Many of the songs were noted without texts and have not been published until now.
There are biographical details of the source singers and photographs of some of the locations where the songs were found. The book has won an award from the Cambridgeshire Association for Local History.
The book can be purchased online.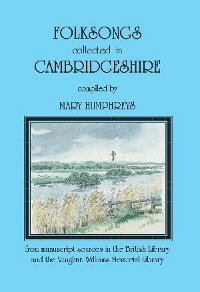 "It is the result of many years of painstaking research into long-forgotten manuscripts...
The songs are richly supported by background information and illustrations relating to their sources, the collectors and the locations...
...by gathering this material Mary Humphreys has created a valuable and accessible reference that will appeal equally to performers and researchers of traditional song."
English Dance and Song, Spring 2010.