Bands, Tunes research and Dance music
Ceilidh bands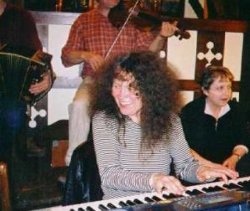 Mary playing at a session in the Bridge, Ripponden in about 2000
Mary plays keyboard for English country dance music. While living in Yorkshire Mary regularly played keyboards in the Herb Boys band and at the sessions at the Bridge in Ripponden - the Monday night sessions which used to be the focus for the Village Music Project initiators.
Fendragon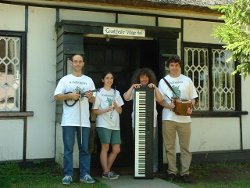 Fendragon ceilidh band
Anahata and Mary formed half of a ceilidh band Fendragon, based in the Cambridge area, along with Dave and Gina Holland - talented young musicians who appeared on our first three Wild Goose CDs. Fendragon was booked for the Chester Folk Festival ceilidh in 2006 and has performed at many public ceilidhs in England. We have done two Playford Balls with Andrew Swaine,caller,for Suffolk Folk - the latest being 2016, and was the band for the Norwich Historical Society Playford Ball in November 2016.
English Rebellion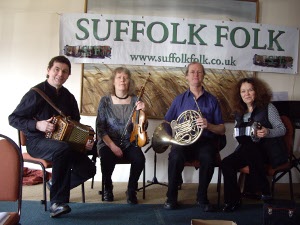 English Rebellion at the Riverside Day 2009
Mary is also part of the ceilidh band English Rebellion ( Nick & Mary Barber and Anahata) which made their grand debut at the Anchor Gardens at Sidmouth International Festival in 2003, appeared at Shrewsbury Folk Festival in 2007 and Chester Folk Festival in 2008. They were booked at Sidmouth Festival for 2010 and following years, and appeared there again in 2016 playing for Playford workshops along with callers Andrew Swaine and Emma Wooders, plus several ceilidh spots.
Ethel's Cats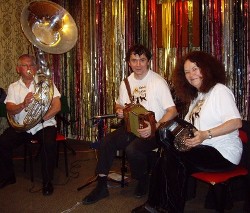 Ethel's Cats at the Keir Hardie ceilidh 2009
This band line-up had Mary on English concertina, Anahata on melodeon and Dave Parker on sousaphone. We all met up together playing music for Pig Dyke Molly, and took it from there! Sadly Dave Parker died in 2017 and has been sorely missed.
Four Hand Band
This is Mary on keyboards and Anahata on melodeon or Anglo concertina - our small but perfectly-formed economy ceilidh band.We mainly play for local gigs.
Tune research
Mary has, along with the owner of the manuscript and with others transcribed tunes from the William Clarke of Feltwell ( Nr Brandon) Manuscripts, owned by Peter and Lyn Law of Chester. Mary and Anahata ran workshops at Gleanings, Shropshire in 2010 and Lewes Folk Club in 2009 based on the tunes from these manuscripts.
Molly Dance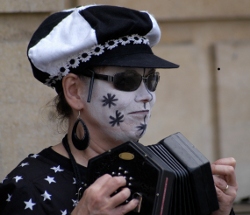 Mary playing for Pig Dyke Molly
Mary and Anahata were, until 2014,part of the band for Pig Dyke Molly, a dance team based in Peterborough which has been booked for many festivals in the UK and has performed in the US and more recently in Bourges, France.
Mary was a member of the Old Glory Molly band who are based in Rumburgh and perform at traditional festival time in the East of England. We are so well disguised in heavy black that you could not possibly recognise me from a photograph. Old Glory are always at Whittlesey Straw Bear Festival. Anahata danced with Old Glory.